The Kyle David Miller Foundation just launched their first ever
silent auction
! Head over to the
KDMF blog
to view the items up for bid. We have 2 sets on the "auction block" including 2-D Zoo, Mini Rocker and Sushi bibs.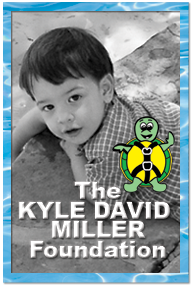 100% of all proceeds go towards purchasing car seats for low income families. The Kyle David Miller Foundation was founded in December 2006 after the Miller family lost their 3-year-old son Kyle in an autombile accident on May 29th 2005. Kyle was seated in a booster seat and the seat belt failed, ejecting him from the vehicle. The KDMF serves two primary purposes:
1. To educate the public about motor vehicle and car seat safety –primarily the importance of the use of extended harnessing 5-point harness car seats for older toddlers and children.

2. To provide safe 5-point harness car seats to families who otherwise could not afford them
.
To learn more please visit the
KDMF website
or
click here
to learn more about Kyle.